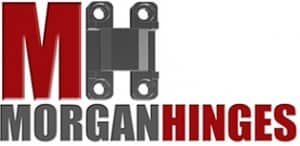 COVID-19 UPDATE:  While we are taking measures to ensure the safety of our employees, Morgan Hinges is currently operating at normal capacity.  Any changes to our production capabilities will be posted here.
Morgan Hinges makes a variety of hinges to meet your aircraft interior hardware needs.  We manufacture stainless steel drop-leaf table hinges which do not fail.  We have a large variety of aluminum hinges for use in cabinet doors and cabin doors.  We also sell knurled inserts, mount blocks and leg mounts to assist with installing our hinges.  While our hinges are primarily used in aircraft, they also can be used in trains, upscale bus applications and yacht cabinetry.
You can read more about some of our specific hinges by clicking on the categories shown on the left.  Our technical drawings only show the first page of our drawings and try to give you some key dimensions of the hinge.  If you need a complete drawing, contact us via email ( sales@morganhinges.com ) or telephone (469-362-8090).
**Item Sale** Selling the DH-4A-180CS for $30/hinge.  Price includes mounting screws.  This hinge is identical in fit and function to the DH-4A-180 hinge.  The difference between the two hinges is that the mounting holes on the DH-4A-180CS are counter-sunk and the mounting holes on the DH-4A-180 are counter-bored.  For more information or to place an order, please contact us.