We manufacture a large variety of light-weight, attractive cabinet door hinges. All of them are made from 6061T aluminum and normally come with a buffed finish. We can black anodize our aluminum hinges as requested by customers.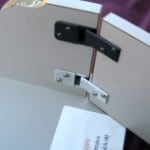 Our most popular cabinet door hinges are for cabinets with EXPOSED STILES. The DH-4A-90 (and DH-4A-90L) along with DH-4A-180 hinges allow a cabinet door to open 90 degrees and 180 degrees respectively. The picture on the left shows a demonstrator with a DH-4A-90B (black anodized) Hinge and a normal DH-4A-90 Hinge installed. Please note that the hole locations on the hinges have been changed since this demonstrator was made. The drawings depict the correct hole locations. A DH-4A-90L hinge has a longer center link than the DH-4A-90.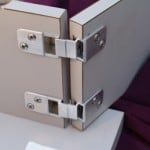 If you have an INLINE application, we have a family of Soss-type door hinges which will meet your needs. The ILDH-4A-90 hinge comes without a spring and rotates 90 degrees (It is shown below to the right. A black anodized version of the same hinge is shown in the middle of the picture below.). The ILDH-4AL-90H is a spring-loaded version that uses a LH-0.028 spring, which tends to keep a door in a closed (inline) position. The ILDH-4A-180 hinge has a right-hand wound spring (RH 0.016) and rotates 180 degrees with the spring-loaded leaf having a tendency to move to the open (not inline) position. The non-loaded side moves as it is pulled opened or closed. (This hinge is shown on the left below.) The ILDH-4AL-180DS has two LH 0.028 springs, so that both side frames have a tendency to remain in the inline (closed) position. As you can surmise, these hinges can have a variety of springs installed to affect the rotation.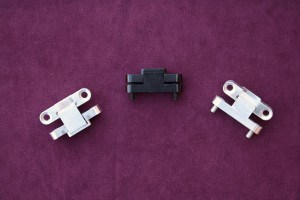 Our aluminum hinges can be installed using our knurled inserts or mount blocks.